Observations on the world today.
Monday, August 23, 2004

Baaaad President
Amazon.com%3A Books%3A Reading Mastery - Level 2 Storybook 1
This is a link to the Amazon page for
Reading Mastery - Level 2 Storybook 1
, the book which contains the story
My Pet Goat
, the story Bush was reading when the second plane hit the second tower on 9/11.
There used to be a reader review which said in part that the story, "captured my imagination so much that it took me about seven minutes to recover my bearings." Amazon has removed that review, probably because it violates their terms of service. They even removed it from the reviewers
page of reviews
. But you can still see it on this
Google cache
.
Franken mentioned it on his show the other day, and within an hour over a thousand people (me being one) had visited Amazon to say that we had found the review helpful.
Anyway, when I visited, I seem to remember that there was a picture of the book. It too has been removed. The note says that no image is available. I would like to remedy that. Amazon, here's a picture of the book. Feel free to use it.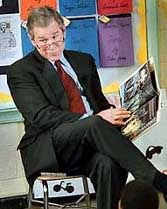 Permalink
|