Observations on the world today.
Sunday, September 05, 2004

I Can See the Presidency From Here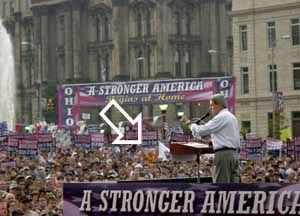 ADDRESSES STEUBENVILLE CROWD
Democratic presidential candidate John Kerry spoke before a crowd of approximately 3,500 people Saturday at Old Fort Steuben in Steubenville. During his speech, Kerry reiterated his support for workers and was critical of the Medicare reform bill.
Now, I could be wrong, but I think that orange blurry blob is my daughter on my shoulders waving her sign.
It's not a very good likeness.
Permalink
|