Observations on the world today.
Friday, September 10, 2004

Why, Ralph? Why?
ONN. Ohio News Now: Ralph Nader Will Be on Ohio Ballot
Secretary of State Kenneth Blackwell has certified a Nov. 2 ballot that includes independent candidate Ralph Nader and a proposed constitutional ban on same-sex marriage.

.....

However, Blackwell spokesman Carlo LoParo said the certification deadline was technical and that if either the same-sex marriage amendment or Nader do not qualify, they will be removed from the ballot.

"While candidates and issues can be removed from the ballot, they cannot be placed on the ballot after Sept. 8," he said.



.....

The Ohio Democratic Party has launched a formal challenge of Nader's candidacy with Blackwell's office. Three Columbus lawyers filed a lawsuit last week in Franklin County Common Pleas Court, alleging fraud and misrepresentation in the campaign to get Nader on the ballot.

Nader supporters submitted 14,473 names on a petition; 5,000 are needed to place him on the ballot. The secretary of state logged 6,464 valid signatures, pending legal challenges.
It is absolutely critical that we keep Nader off the Ohio ballot. How critical?
This critical
: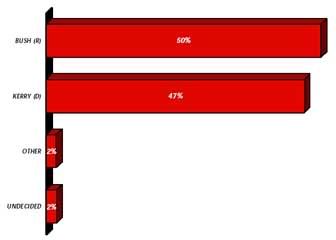 Nader doesn't even have a chance to get enough votes to qualify for matching funds, and he can do nothing to help any political parties in future election, which was part of the argument used for voting for him in 2000. This time, the only two possible outcomes of a Nader vote in Ohio are that your vote makes no difference, or that your vote tips the scale in favor of Bush. It really is as simple as that.
Permalink
|